CSA 6th Annual National Day of Prayer Week
Friday May 6th- Prayer Theme: Abortion
3rd Speaker: Bud Shaver, Pro-Life Missionary- Pro-Life Witness and Executive Director of Protest ABQ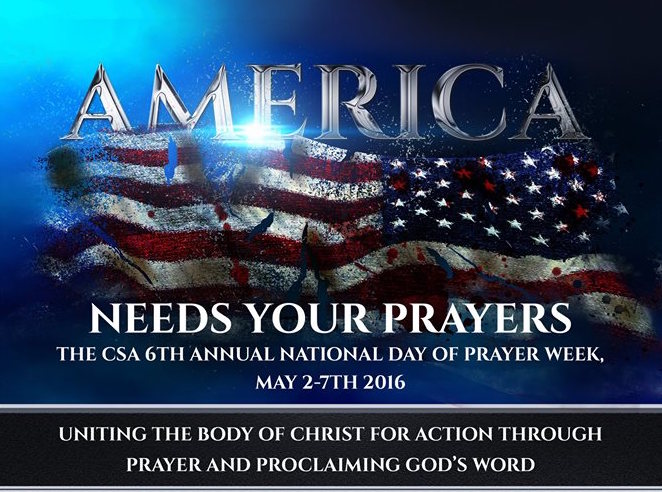 [Outline]
Title: Abortion is a Big Deal
Intro: [Bible Passages] Sin in the Camp: Lesson of Ai (Joshua 7:3-11) We are at War: Strategies of the Enemy- Lesson of Balaam/Balak (Numbers 22: 10-12; 25: 1-3)
– We as Church leaders need to confront this grave injustice. I'm giving you leaders permission to talk about abortion in your Churches (this sin is in our "camp" and in our nation.  The enemy has successfully compromised us all by this national sin. If we don't confront it, like the sin of Baal of Peor, God will remove His Blessings on us and we won't be able to move forward as a nation.)
– Great strides are being made Nationally. (All the surrounding states of New Mexico are passing numerous pro-life laws, Governors all across the country are defunding Planned Parenthood: http://www.lifenews.com/…/scott-walker-we-need-to-de-fund-…/)
– New Mexico needs to deal with abortion. (Our lack of laws is circumventing all of the National progress, Example Texas mandates parental notification before an abortion…a sexual abuser in TX drives a minor across the border and minor gets an abortion in NM and her parents never know: https://prolifewitness.org/albuquerque-nm-late-term-abortio…/)
– Planned Parenthood's atrocities are being exposed selling baby body parts after abortion. This has touched our nation's heart. CenterForMedicalProgress.org
– New Mexico is at the center of this huge national scandal. (US House Panel subpoenas University of New Mexico and Southwestern Women's Options: http://www.abqjournal.com/…/nm-part-of-fetal-tissue-debate.…)
– We (LifeMinistriesUS.org) compiled over 5 years of research and presented it to legislators in Santa Fe, New Mexico at the start of this year's legislative session in January. (FULL 45min. FEATURE: https://www.youtube.com/watch?v=pYGOID3rmho)
– Now I'm presenting (Part 1) to you Church leaders. (Inform you about what we are really dealing with in "NM Reproductive Health Facilities" pull back the curtain, hear them in their own words. For your prayers and action.) Watch video- Part 1: https://www.youtube.com/watch?v=55gzJPdXMH0
Prayer Requests:
-Pray for unity among pro-life groups.
-Pray for all of our efforts to bear fruit.
-Pray for our Leaders [civic- local, city, state] to be bold. (We as Church leaders and the people they represent must raise the bar and expect more from them. Encourage this when we have opportunities to speak with them. Example our Gov. Martinez claims she can't do anything except sign bills into law that get to her desk…but several other Governors across the nation are Defunding Planned Parenthood, launching investigations: http://www.breitbart.com/…/bobby-jindal-plays-planned-pare…/)
– Pray for The University of New Mexico, the heart of the abortion industry in New Mexico. (Great progress visit ProtestABQ.com "News" tab for Action Items… prayer and contact)
– Pray for two of our current investigations and complaints we have formally filed.
(1.) Attorney General: http://www.abqjournal.com/…/anti-abortion-groups-want-probe…
(2.) Nursing Board- http://www.abqjournal.com/…/group-targets-prescription-of-a…
For more documented abuses and investigations visit ProtestABQ.com
Watch FULL FEATURE: