Reality Check: We're at War Against Incarnate Evil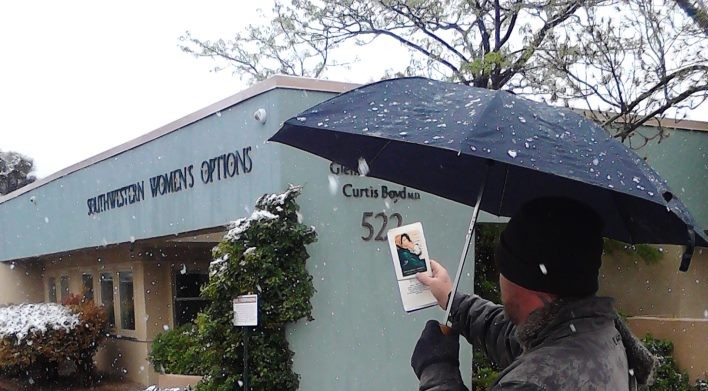 (Bud pictured above) This How We Wage War: With Grace, Love, and the Truth!
Giving Hope to the Hopeless…In the Name of Jesus!
By Tara Shaver
Albuquerque, NM- On October 2, 2015 Glenn Beck interviewed David Daleiden of the Center for Medical Progress (CMP) on The Blaze. The CMP released a series of videos exposing Planned Parenthood's aborted baby body part selling scheme and have sent shock waves through the world. These videos have given every single one of us a glimpse of just how far the abortion cartel has embraced evil by ending human lives and profiting from the harvested organs, tissues and limbs.
Watch the Interview with Glenn Beck and David Daleiden here:
During this interview Daleiden shares what he considered to be a face to face encounter with evil. During all of his hours inside of Planned Parenthood abortion clinics, witnessing the remains of aborted children, and speaking to countless abortionists, he names one of Albuquerque's late-term abortionists, Shelley Sella as his first encounter with "Incarnate Evil". This encounter with Sella occurred early on during his investigation of Planned Parenthood where Sella lives and performs abortions while in California when she's not killing babies in New Mexico up to the day of birth.
An excerpt from Daleidon's interview details this encounter:
"And while I was speaking with her (Sella)… all of a sudden she looked straight in my eyes, and I saw a flash from one side to the other, and all of a sudden, her eyes looked really hard and mean and aggressive."
"And for the first time during this entire project, I felt really afraid, like an actual fear, a fight-or-flight kind of response. I felt very exposed, like she knew everything about me. And then all of a sudden … back to laughing and joking, totally casual, normal. And I talked about that with several people afterwards, and on some level, we feel like that was the predator look or the predator instinct that you see in someone who is accustomed to killing people. This is a late-term abortion doctor who has terminated many, many, many big babies over the years."
Daleiden concluded, "That was probably the most significant moment that I had kind of early on encountering, as you said, the evil that we were going to be directly in contact (with)."
When we moved to Albuquerque 5 years ago as Pro-Life Missionaries it was because Curtis Boyd set up his killing business here specifically to market late-term abortions. Late-term abortions are legal in the state and are of course very lucrative financially for abortionists.
An integral part of Boyd's plan to market and perform late-term abortions in New Mexico was to employ late-term abortion "specialists", Shelley Sella and Susan Robinson.
Sella has not flown completely under the radar here, in fact she faced disciplinary action by the New Mexico Medical Board (NMMB) after Tara filed complaints after obtaining a total of fourteen 911 calls eleven of which documented botched abortions at Southwestern Women's Options.
The only botched abortion that the NMMB bothered to investigate was performed by Sella on a 35 week pregnant woman from New York state. The woman, who had a previous c-section, experienced a ruptured uterus at Southwestern Women's Options during the course of her four day procedure to kill her baby.
It's no coincidence as well that David Daleiden spoke with late-term abortionist Shelley Sella while he was undercover as a "fetal-tissue" buyer. We have uncovered that Southwestern Women's Options in Albuquerque is forcing women who have abortions to give the babies remains over to medical research which is in clear violation of New Mexico law. Read more about our complaint that we have filed with the New Mexico Attorney General here: Criminal complaint against abortion clinic filed by pro-life group charges they harvest baby parts
From a Christian perspective, we are at war against (as David Daleiden articulated best) incarnate "Evil." We get up every morning and ask ourselves, "What more can we do to work to end abortion in this state?" For 5 years nearly all of our efforts have been shut down to the point where we are now exploring legal action to get some projects moving again.
When we spoke to a church in Flagstaff last week, we shared with our audience that one of the top reasons that we believe God brought us to New Mexico is the acute demonic stronghold that persists here. There can be no doubt about this when you look at all of the state's national rankings and you look at it's largest city of Albuquerque through spiritual eyes.
Many pro-life leaders that we have spoken to over the past five years have expressed that they have little hope for New Mexico, however, we do have hope and will continue to press on. But we need your prayers.
We have put Albuquerque on the map, it is now known nationally as the Late-Term Abortion Capital of America.
Please continue to keep our efforts in your prayers:
-Our formal complaint filed with the NM Attorney General will bear fruit.
-A spiritual breakthrough will occur here and that light will overcome the darkness.
-For continued protection and provision for our family.