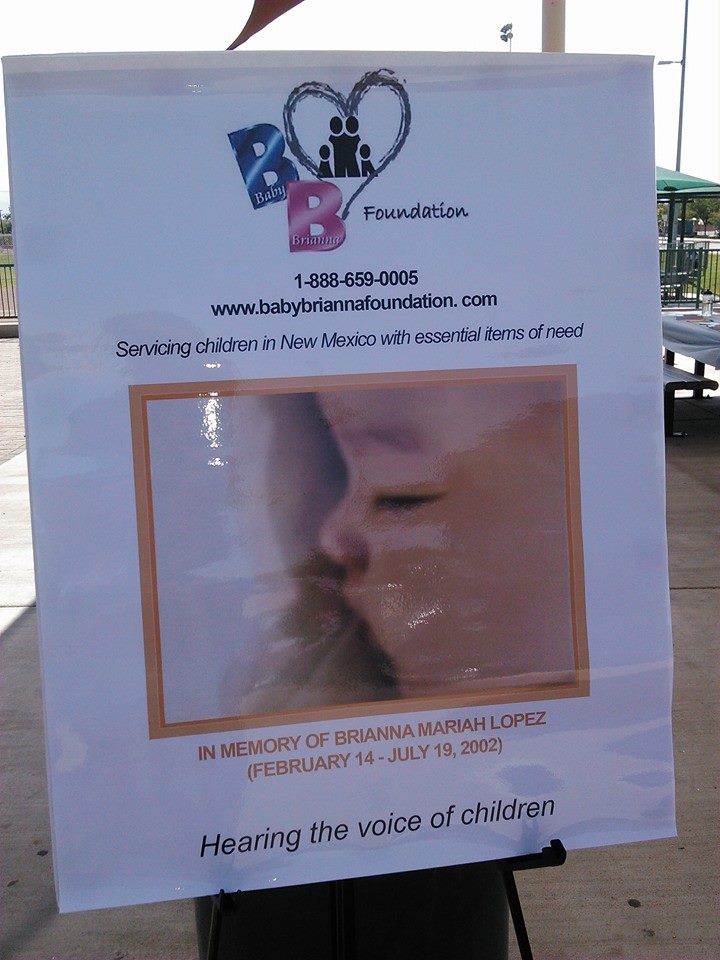 We are excited to share two upcoming events by two great local ministries that Tara and I FULLY SUPPORT! Two GREAT opportunities to serve local mom's in our community! Please consider attending BOTH of these wonderful events.
Baby Brianna Foundation Charity Gala- August 16, 2014 at the Hyatt Regency Albuquerque from 6-9PM
Help improve child welfare in NM by purchasing tickets to attend the first annual charity gala of the Baby Brianna Foundation, a registered nonprofit corporation in New Mexico, which provides free children's clothing, food and cash assistance to low-income children and families in New Mexico.  Created in loving memory of Brianna Mariah Lopez (Feb. 14-July 19, 2002), this organization strives to increase community awareness and involvement to prevent child abuse and neglect.  Visit their website for more details about their mission: www.babybriannafoundation.com.
This year the Honorary Speaker will be Gov. Martinez in her role as former District Attorney who successfully prosecuted the murder case of Baby Brianna in Las Cruces. The gala is on August 16, 2014 at the Hyatt Regency Albuquerque from 6-9PM.  Tickets are $75 each or 2/$140 and include a full-course dinner and entertainment.  Call 1(888) 659-0005 Mon-Fri, 6am-6pm to purchase tickets. Parking vouchers will also be provided.  Feel free to call the Founder and President of the organization, Laura Heithaus, at (505) 401-2704, for more information on the nonprofit.
Annual Gabriel Project Moms Ministry Fundraising Dinner- Friday, Sept 5th at the Embassy Suites Hotel from 6-9pm
Project Defending Life- The Gabriel Project's Sixth Annual Fund-Raising Dinner
6-9 PM on Friday, Sept 5th
Embassy Suites Hotel
1000 Woodward Place NE
Albuquerque, NM 87102
North of Lomas and
West of I-25
Tickets are $100 per person and are available by calling:
Project Defending Life
(505) 266-4100
625 San Mateo Blvd NE
Albuquerque, NM 87108
Also you can purchase tickets from the web page …
www.defendinglife.org
The Gabriel Project works with other ministries at Project Defending Life (PDL) to save the life of a baby by helping a mother that is considering abortion. If we don't love the mother and help her, how can we stop abortion?
–The Gabriel Project helps pregnant women in crisis,
-We offer monetary, emotional, and spiritual support for the moms,
-We offer free ultra sounds of the baby,
-We offer hope and love through this seemingly difficult time,
-Help is available by calling 1-888-475-2229 or 1-505-266-4100.
Honored Guest at the Dinner:
Archbishop Michael J. Sheehan
Keynote Speaker:
Troy Newman, President of Operation Rescue www.operationrescue.org
Click here for a printable flyer to promote this LIFE SAVING event
Because of Christ we stand,
Bud and Tara Shaver
Pro-Life Missionaries
www.prolifewitness.org
"Seek the well being of the city to which I have sent you. Pray for it to the Lord. For in seeking its well being you shall find your own." Jeremiah 29:7