Nov. Newsletter: Called To Be Faithful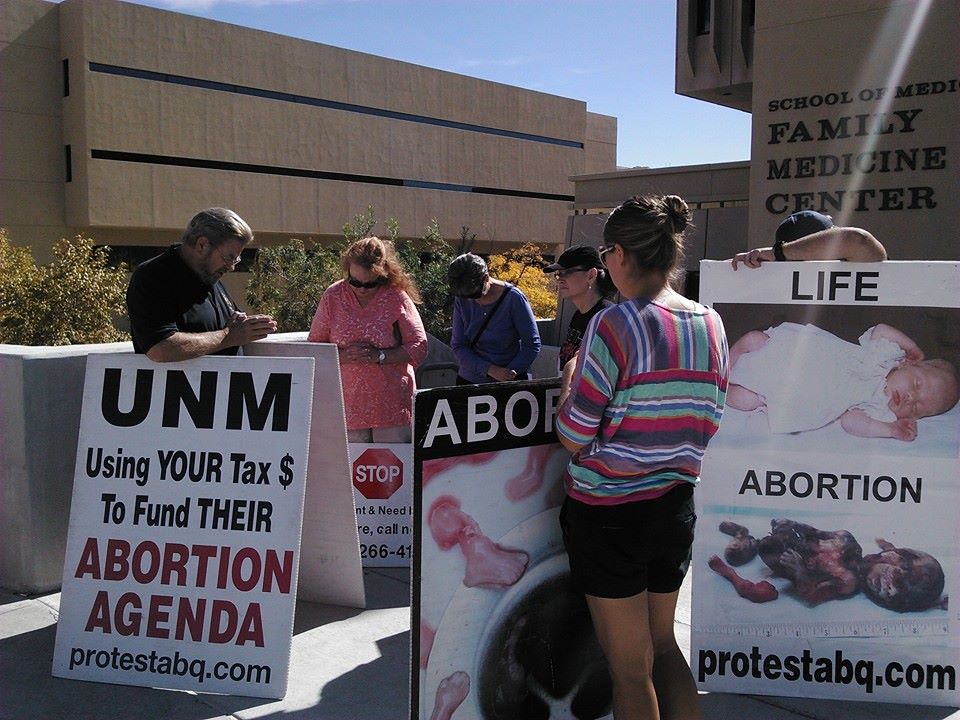 "God Has Not Called Us To Be Successful, He Has Called Us To Be Faithful" ~Mother Teresa
This month we have continued to put the pressure on UNM through protest and public awareness. We also educated the masses who came to ABQ for the International Balloon Fiesta through protests primarily at Plaza Inn hotel which houses Boyd's late term abortion patients.
Our consistent group of faithful protesters, who are merely trying to be the hands and feet of Jesus, continue to encourage us with their passion and participation in various outreaches. Thank you to everyone who stands with us in prayer, support and encouragement!
Sometimes the fruit of our efforts is SIMPLY being the catalyst for a conversation about abortion. When abortion is brought to light in any public way, especially through the media, WE ALWAYS WIN! Abortion is after all…indefensible.
This month, unexpectedly, our steadfast and faithful efforts have caused both a local…and a national storm! The whole city was buzzing about a sign  that has been used outside of the the late term abortion clinic for 4 years. The local news media even covered the story and we thought the coverage was fair.
Several other Christian and secular media covered the story as well. People are talking about and considering their position on abortion as a result. God is good and always at work.
Click here for our newsletter from this month
In the News This Month:
On a national level, the Protest ABQ efforts reached a pro-abortion journalist for COSMOPOLITAN who wanted to write a piece about governor Martinez being a potential GOP candidate in 2016. We've included the article below and praise God with us for the fairness of the article in light of the author.
Click here to read the SURPRISINGLY fair and hard-hitting article by COSMOPOLITAN: New Mexico governor Susana Martinez has come under fire from anti-abortion groups for not doing enough to help their cause.
Our continued faithful efforts of prayer, protest, and outreach at late-term abortion clinic Southwestern Women's Options stirred quite the conversation this month…both Locally and Nationally!
Watch local CBS coverage from KRQE-13 here: Parents upset over graphic anti-abortion ad near school
Read a national story from Mad World News here: Pro-Life Sign Near School Causes Outrage, But Makes A Good Point
National Pro-Life Coverage by Jill Stanek: Media complains pro-life sign at abortion clinic "near a school"
…More News From this Month:
Plaza Inn Hotel…"Dead Babies Delivered In Toilets Here"
Research project Tara helped with…Caught Red-Handed: New Mexico Abortion Business Was Operating Illegally
Take Action: High Priority Abortion Cases Need Your Voice! 
Thank you for your continued prayers, support and encouragement! We are so blessed and humbled by all of our partners in this ministry to save lives here in Albuquerque, New Mexico. 
Keep our efforts in your prayers as we continue to move forward to end abortion in New Mexico…to God alone be the glory!
Because of Christ we stand,
Bud and Tara Shaver
Pro-Life Missionaries
www.prolifewitness.org
"Seek the well being of the city to which I have sent you. Pray for it to the Lord. For in seeking its well being you shall find your own." Jeremiah 29:7