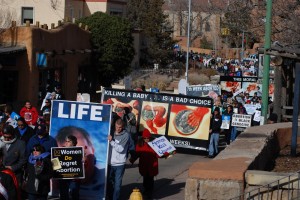 Wednesday, January 16th 2013
The 6th Annual Sanctity of Life Awareness and Unity Day (SOLAUD)
This year marks the 40th anniversary of legalized abortion in America. Let's stand together for life, be encouraged about all that has been accomplished recently in New Mexico, but also find out how you can be involved in helping to end abortion in our state. This event coincides with the start of the legislative session, so your presence is vital for sending a strong message to our legislators and Governor Martinez!  (If no one turns out to this event that will also send a message to our legislators and the Governor…!)

Event will be held regardless of weather; Rain, Shine, Cold or Snow!
Wednesday, January 16th in Santa Fe
8:00 am – 11:00 am – Continental Breakfast (Crispin Hall behind Cathedral) 11:00 am
9:00 am – 11:00 am – Conference and Exhibits (Inn at Lorretto at 211 Old Santa Fe Trail) Conference speakers will be Bud and Tara Shaver and Trent Horn, hosted by Fr. Stephen Imbarrato (PDL)
Noon – 1:30 pm – Non-Denominational Prayer Service (Inn at Lorretto) Guest Speakers- Chris Donnelly of TVAC New Mexico and Pastor Robert Hall from Calvary Chapel of Rio Rancho
Noon – 1:30 pm – Catholic Mass con-celebrated by the 3 Bishops of NM (St Francis Basilica)
1:30 – 2:30 – Procession around Plaza to Roundhouse
2:30 – 3:00 – Rally at Roundhouse with bishops, pastors, and other speakers
3:00 – Visitation to Governor and Legislators' offices in Roundhouse
There will be a Youth Event the evening before, Tuesday night January 15th. There will also be an all night adoration the night before the event at St Anne's and Our Lady of Guadalupe parishes in Santa Fe and possibly the Cathedral.
This is a family event! Babies in strollers encouraged to join us!
Bring your own signs or signs will be available.
For more information and questions about the event, call Bud or Tara Shaver (505) 319-7825 or e-mail us: shavermissions@gmail.com

Free transportation in downtown Santa Fe is available using the Santa Fe Pick-Up shuttle service.
---
We are encouraging churches, parishes, schools, and organizations to book a bus for the event!
Bus Information:
Albuquerque to Santa Fe Charter Services:
Paradise Tours
877-0697
55 passenger and 27 passenger charters.
Herrera Coaches
242-1108
55 passenger and 44 passenger charters.
Follow the Sun
897-2886
55 passenger, 46 passenger and 33 passenger charters.
Total Charter Service
842-9663
55 passenger charters.
Prom Charters
407-484-0032
55 passenger charters.
American Tours
342-2303
52 passenger charters.
We can't wait to see everyone there to make this the biggest SOLAUD yet!