(Pictured above- Abortion Free New Mexico at Last Year's 2018 SOLUAD in Santa Fe)
By Bud Shaver
Santa Fe, NM- Join Pro-Life Christians from all across the state, Wednesday January 16, 2019 for the Sanctity of Life Awareness & Unity Day, as we stand up for the babies of New Mexico in conjunction with the start of the 2019 legislative session. The elected officials of New Mexico need to see our presence and hear our unified voice for Life!
Free parking is available Monday through Friday at 420 Galisteo St. Click here for a map.
Abortion Free New Mexico will be up in Santa Fe and Bud and Tara Shaver will hand deliver 112 postcards to all 70 Representatives in the House and all 42 state Senators urging New Mexico state legislators, both Democrat and Republican, to OPPOSE PRO-DEATH LEGISLATION.
Here is what Abortion Free New Mexico is hand delivering to EVERY New Mexico Legislator: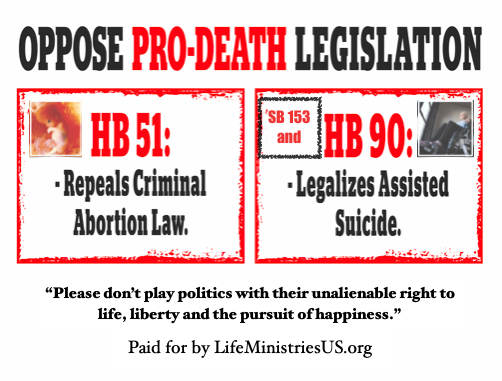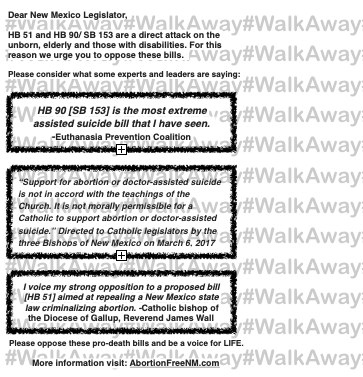 We encourage everyone Marching for Life in Santa Fe to stop by their legislators office and respectfully urge them to OPPOSE the following bills:
HB 51: (House Bill) DECRIMINALIZE ABORTION
Repeals Criminal Abortion Law.
Sponsored by:
Joanne J. Ferrary
HB 90: (House Bill) ELIZABETH WHITEFIELD END OF LIFE OPTIONS ACT
Legalizes Assisted Suicide.
Sponsored by:
Deborah A. Armstrong
Elizabeth "Liz" Stefanics

SB 153: IDENTICAL (Senate Bill) ELIZABETH WHITEFIELD END OF LIFE OPTIONS ACT
Legalizes Assisted Suicide.
Sponsored by:
Elizabeth "Liz" Stefanics
LEARN MORE ABOUT THE PRO-DEATH BILLS AND THEIR IMPLICATIONS ON NEW MEXICO:
IF YOU CAN"T MAKE IT UP TO SANTA FE, THEN LET YOUR FINGERS DO THE WALKING AND CONTACT YOUR LEGISLATOR BY PHONE AND/OR EMAIL
Find your legislators and view the bills at: NMlegis.gov
Legislative Switchboard: 505-986-4600
Santa Fe, New Mexico Wednesday, January 16, 2019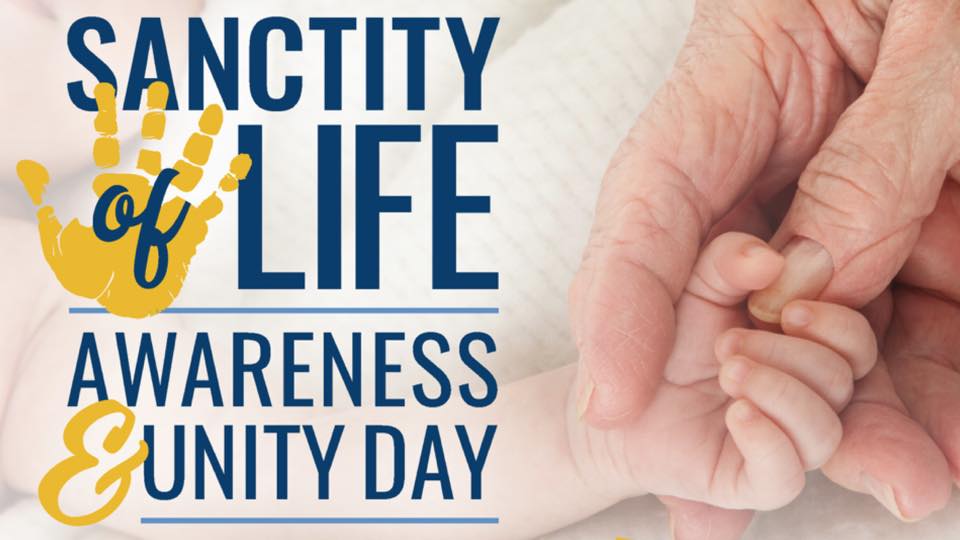 Santa Fe, NM- Sanctity of Life Awareness & Unity Day
From Event Facebook Page sponsored by Family Policy Alliance of New Mexico and New Mexico Prays:
"There will be a noontime Mass at the Cathedral Basilica for our Catholic brothers and sisters. Meanwhile, we will be holding a Christian Worship and Prayer Service at the Capitol, before coming together for the Life Walk and rally at the Capitol."
Friday January 18, 2019: Albuquerque, New Mexico
2nd Annual Albuquerque March for Life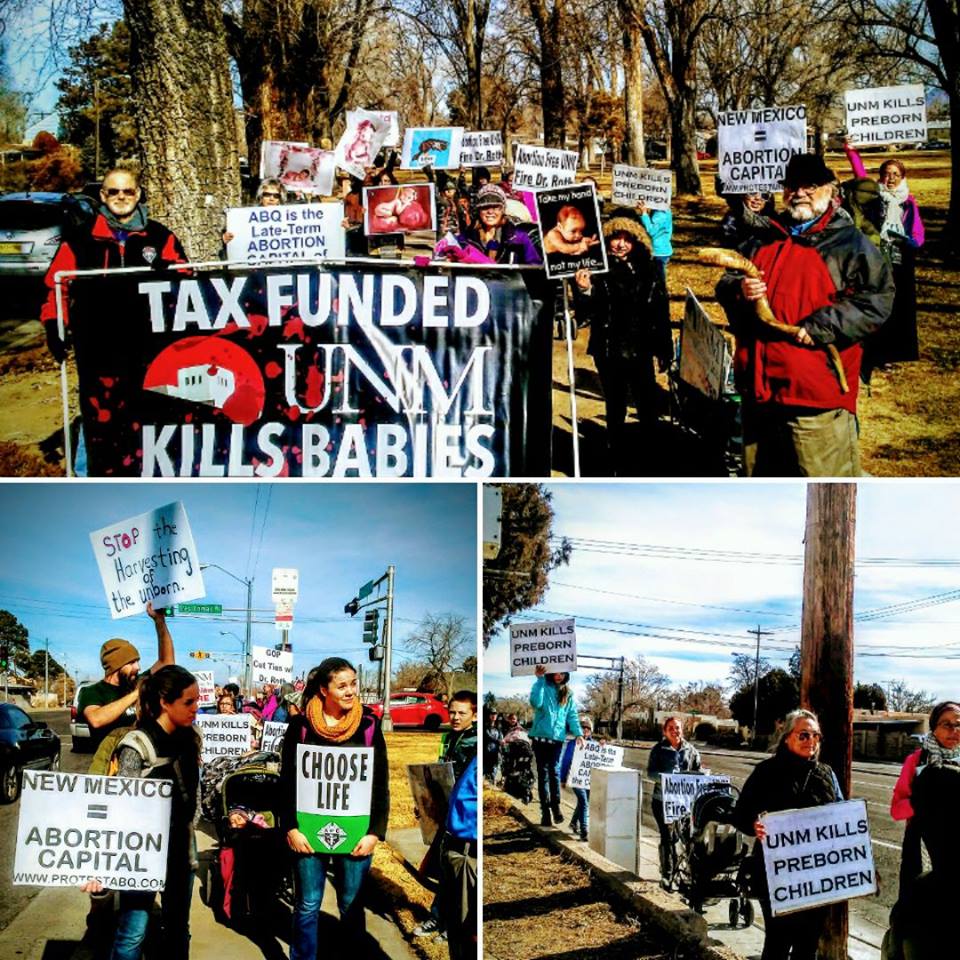 Albuquerque, NM- (Friday, January 18, 2019) Meet at 9:45am at the Bataan Memorial Park to March for Life around UNM, the heart of the New Mexico abortion cartel. It's a 2.5 mile route and there will be people with water bottles at various points along the route.
"January is Sanctity of Life Month so let's march for LIFE! Let's let our community and our government know that we will not silently stand by and allow state and federally sanctioned homicide any longer—and do it with the peace and love of our Messiah in the public square." Albuquerque March for Life Organizers
Wear good walking shoes and bring shofars and tambourines and signs if you wish, signs will also be provided.
Entire event will last from 10 AM-12 PM
Thank you for standing with us for life and truth!
"Therefore we ought to support people like these, that we may be fellow workers for the truth." (3 John 1:8)