We also need volunteer driver's for our Truth Truck.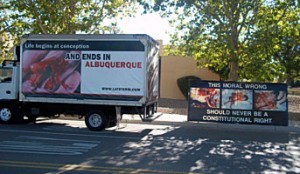 The Truth Truck is a great way to educate our community by restoring meaning to the word "Abortion." Graphic images does just that! It is true that…"A picture is worth a thousand words!" The use of graphic images of abortion violence has the ability to change minds and save lives, just by being seen. Also, graphic images moves our culture out of apathy and into action!
You do not need a special license to drive the Truth Truck, and we pay for the gas!
For more information about driving the Truth Truck contact Bud Shaver:
Phone- (505) 304-3952
E-mail- bud@defendinglife.org