Abortion Free New Mexico Assisted in this Year's Nationwide Survey
"Just out! Here are results from our 2017 Abortion Clinic Survey! Graphs included. By the way, we personally call each and every abortion facility in the US to get this data. No one else does that. This makes our numbers the most accurate you will find anywhere." Cheryl Sullenger, Senior Vice President of Operation Rescue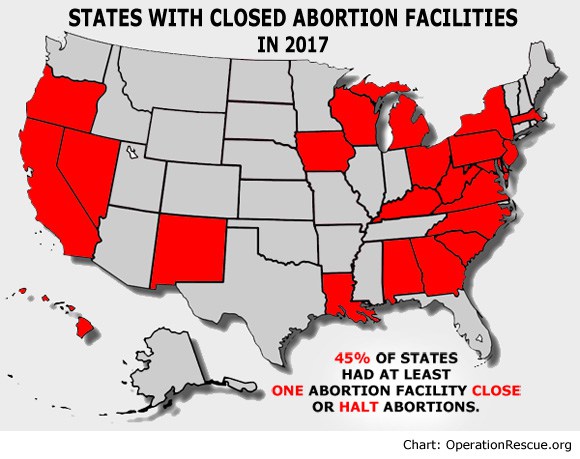 An Operation Rescue Special Investigative Report
By Cheryl Sullenger
Washington, DC — In a year that abortion businesses attempted to expand in America, the actual number of abortion facilities decreased by 27 clinics over 2016 totals.
Closures far outpaced newly opened abortion facilities in 2017.  In all, 49 abortion facilities — 35 surgical and 14 medication only clinics — closed or halted abortion services. Only eight new surgical abortion facilities were opened, along with eleven new medication abortion facilities.
There was also some movement between categories. Fourteen surgical abortion facilities now only conduct medication abortions, while five medication abortion facilities added surgical abortions.
These encouraging statistics and more were verified through an annual survey of abortion facilities conducted by Operation Rescue staff, this year with the assistance of Abortion Free New Mexico.
"Operation Rescue's annual surveys provide the most complete and accurate picture of abortion facilities available — straight from the horse's mouth," said Troy Newman, President of Operation Rescue.
Methods
Each year, Operation Rescue surveys each abortion facility in the U.S. using a number of investigative methods. Each facility was directly contacted. Abortion facility personnel voluntarily verified that abortions were available, and shared information on abortion pricing and wait times, although they were not aware the information was going to Operation Rescue.
By the Numbers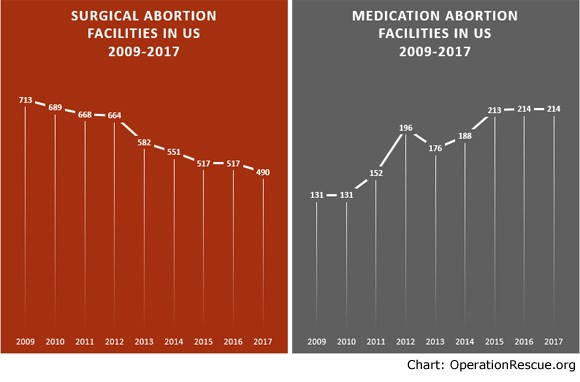 In 2017, there are 704 abortion facilities remaining in the U.S. Of these, 490 offer surgical abortions, often along with medication abortions. There are 214 facilities that offer only medication abortions.
Forty-five percent of all states had at least one abortion facility that closed or halted all abortion services this year… CLICK HERE to Continue Reading
"We rejoice that the abortion cartel is imploding and closing down. We are making progress. But they are not going down without a fight," said Troy Newman President of Operation Rescue. "We continue to work and pray that we will soon see an end to abortion in our nation. Let's stop the killing and, in the words of President Donald Trump, make America great again!"
Read Operation Rescue's exclusive special investigative report based on its survey of all abortion facilities in the U.S.